Lightness Forum
(Mini-Course)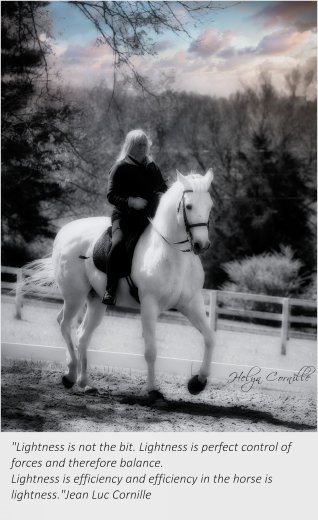 Starts Feb 8th.
cost is $125. USD
"There is always light if only we are brave enough to see it. If only we are brave enough to be it." (Amanda Gorman. The hill we climb)
Courage is not being brave enough to do it even if we know that it will hurt. Stupidity is the same thing. Bravura is giving to the horse the athletic ability to perform at ease and pain-free. One needs to be brave enough to climb the hill of tradition. The belief that the way it was done is more important than the way it could be done applying advanced knowledge.
We need to be brave enough to see how the horse's body functions in the light of actual knowledge. We need to be brave enough to ride in respect of actual knowledge. The darkness tries to swallow new knowledge because tradition is not about the horse's effortlessness and soundness; tradition is about ego. We know it is right, even if it was created when the understanding of equine locomotion and body function was in its infancy.
We can ride in the light. We can be it; we have the knowledge, and most of us have the skill to ride in respect of the way the horse's physique actually functions. The second 2021 science of motion's forum is "Lightness." It is the light; it is the most advanced explanation of lightness in the light of tensegrity, physical intelligence, synergies, elastic energy. We need to be brave enough to take conscience of the uphill battle that the horse is fighting because of erroneous beliefs. Lightness is not the bit. Lightness is not achieved shifting the weight backward. Lightness is not achieved increasing the load on the hind legs. If one cannot take more, one should stay in the darkness of traditional thinking. Suppose one is brave enough to value their achievements on the ability to efficiently prepare the horse for the athletic demand of lightness. In that case, one should enter the lightness forum, which will start the second week of February.
The "Lightness Forum" commences with a large document, including illustrations and videos, and the discussion will go chapter by chapter on the new understanding of lightness.
Jean Luc Cornille
Contact helyn@scienceofmotion.com to sign up.